We are delighted to host the 24th Discrete Simulation of Fluid Dynamics (DSFD) conference in Edinburgh on 13th–17th July 2015. The venue is The Royal Society of Edinburgh.
The local organisation is based at The University of Edinburgh and University of Strathclyde (contact local organisers at dsfd2015-info [at] ed [dot] ac [dot] uk).
Join the DSFD mailing list and follow us on Twitter to receive conference updates: @DSFD_Conference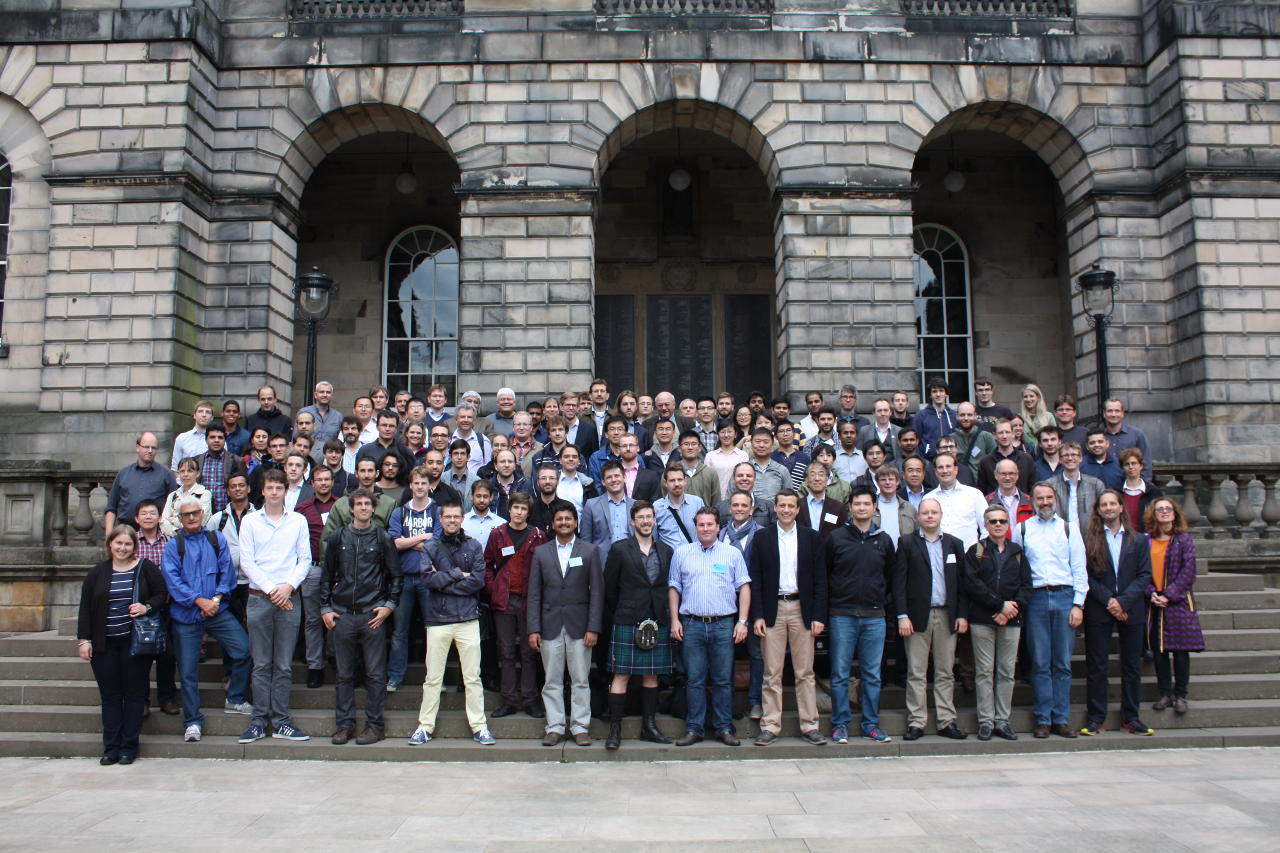 DSFD 2015 group photo taken in the Old College Quad of the University of Edinburgh. Click here for a version with high resolution.
About the conference
The DSFD series of conferences originated with the 1986 Los Alamos conference organised by Gary D. Doolen. Since that time, the DSFD conferences have emerged as the premiere forum for researchers in the field, and many exciting new discoveries in lattice models of fluid dynamics have been first announced at DSFD conferences.
Topics emphasised at these meetings include lattice Boltzmann schemes, dissipative particle dynamics, smoothed-particle hydrodynamics, direct simulation Monte Carlo, molecular dynamics, quantum Monte Carlo methods, multiparticle collision dynamics and hybrid methods. There will be sessions on advances in both theory and computation, on engineering applications of discrete fluid algorithms, and on fundamental issues in mathematical modelling, numerical analysis, statistical mechanics, kinetic theory and hydrodynamics and their applications in microscopic, nanoscale and multiscale physics for emerging technologies. Other topics of interest include theoretical and experimental work on interfacial phenomena, droplets, free-surface flow, and micro- and nanofluidics.
About Edinburgh
Edinburgh is Scotland's truly cosmopolitan capital with "only" 490,000 inhabitants. Apart from its amazing castle and Arthur's Seat (an ancient volcanic plug in the centre of the city), Edinburgh is home for several international festivals (International Film Festival, International Book Festival, Festival Fringe, to name only a few). Vancouver, Florence and Nice are some of Edinburgh's twin towns, and Edinburgh's beauty is in no way inferior. Parts of the city centre are UNESCO World Heritage Sites. Numerous famous scientists have been born or worked in Edinburgh, for example Alexander Graham Bell, Max Born, Charles Darwin, Peter Higgs or James Clerk Maxwell. Also Harry Potter was created in Edinburgh. Visit Scotland is a good starting point to learn more about Edinburgh and Scotland.